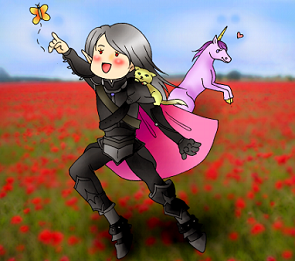 Ignore the image. I know it's hard, but do it.

I have an announcement. After several years of limping pathetically behind in the age of social networking, I have finally been coaxed by my sister into creating a Facebook paaaage! (I have no idea why I felt the need to announce this, but there you go.) I currently have about ten friends whom are either relatives or friends masquerading as Pokémon characters.
In any case, I've spent the holidays here in Connecticut. Aside from my 12-hour layover in North Carolina, which afforded PLENTY of free time to doodle, I haven't been doing very much "arting." (Aside from finishing off the script and storyboards for the new "Robin Hood" spoof.)
So, yes. I hope everyone had a good holiday.

I'm off to tend to my fake virtual fish on the stupid application my sister got me addicted to. Cheers!
Oh. And go ahead and add me, if you don't think it'd be weird.

I found most of my friends with unusual names, but I'm afraid the search function on there has thwarted me. Don't worry. I'm not one of those weirdos that feels the need to update every twenty minutes to let everyone know just how bored they are.
My page is over here:
[link]